Mr. Magoo's Christmas Carol, The Making of the First Animated Christmas Special (Paperback)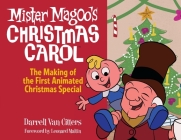 $62.49

Available to SHIP now; STORE PICKUP in 7-10 days
This book cannot be returned. PRINT-ON-DEMAND; printing may add 2-4 business days.
Description
---
In the winter of 1962, a time of three gargantuan broadcast networks and a power-wielding block of national advertisers, a relatively tiny ornament called Mr. Magoo's Christmas Carol would herald a family holiday TV tradition that has all but slipped into obscurity in the wake of the numerous Christmas specials that it inspired.
Now animation director Darrell Van Citters, in a meticulously researched and delightfully engaging story-told with dozens of production art images and rarely seen photographs-has captured that golden era of TV animation in this richly illustrated book. It's a detailed retelling-in the voices of many of the artists who created it-of the painstaking and often frustrating efforts to translate Charles Dickens' timeless holiday tale into a Broadway-style musical for the small screen-the first ever of its kind.
It took an amazing, quirky confluence of unlikely events to bring Mr. Magoo's Christmas Carol to life, the first (and one of the most beloved) of all animated television Christmas specials. Marketing whiz Henry Saperstein's purchase and revival of the once innovative but foundering UPA studios; visionary UPA producer Lee Orgel's lightning flash of an idea to cast the comical character Mr. Magoo in a serious role as Scrooge; Orgel's enlistment of veteran director Abe Levitow (simultaneously directing the much higher profile feature Gay Purr-ee); and the hiring of Broadway composers Jule Styne and Bob Merrill, whose struggles to get Funny Girl into production left them time to write songs for an unlikely (and very nearsighted) Scrooge.
This affectionate, often suspenseful narrative in words and images is a must-have for fans of the special as well as animation and Broadway aficionados. Relive an era of pioneering TV programming, the birth of long-form animated storytelling on television, and rediscover this gem of a Christmas classic that set the stage for all that followed it-welcome to the story of Mr. Magoo's Christmas Carol