A Boy and a Jaguar (Hardcover)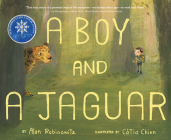 $17.99
AVAILABLE TO ORDER (store pickup in 5-14 days)
Description
---
2015 Schneider Family Book Award Winner
Alan loves animals, but the great cat house at the Bronx Zoo makes him sad. Why are they all alone in empty cages? Are they being punished? More than anything, he wants to be their champion—their voice—but he stutters uncontrollably.
Except when he talks to animals…
Then he is fluent.
Follow the life of the man Time Magazine calls, "the Indiana Jones of wildlife conservation"as he searches for his voice and fulfills a promise to speak for animals, and people, who cannot speak for themselves. This real-life story with tender illustrations by Catia Chien explores truths not defined by the spoken word.
About the Author
---
Dr. Alan Rabinowtiz has dedicated his life to two causes: protecting the world's thirty-six wild cat species and advocating for stutterers as a spokesperson for the Stuttering Foundation of America. His conservation work has been chronicled in the New York Times, Scientific American, Audobon, Outside, Jerusalem Report and National Geographic Explorer, among others. He tells audiences that he feels lucky to have been given the gift of stuttering and believes that without it, he would not be on the path of his passion--saving big cats. This is his first book with Houghton Mifflin. Vist www.panthera.org and www.stutteringhelp.org.


Catia Chien is an avid painter whose work is known for its whimsy, colors, and energy. She has produced work for the children's book market, film and animation industries, comic book anthologies, and galleries. Visit her at catiachien.com and on Instagram @catia_chien.
Praise For…
---
"This book made me cry tears of sympathy, and joy. You and I are this boy; You and I are this jaguar."
—Sherman Alexie, National Book Award winner for The Absolutely True Story of a Part-Time Indian
"This true story of a promise kept is for everyone – no matter what age – to read and share."
—Sy Montgomery, Sibert Medal Winner for Kakapo Rescue: Saving the World's Strangest Parrot
"A beautiful book that will inspire stutterers to succeed and make a positive difference in the world."
—Temple Grandin, author of Animals in Translation
* "In his first book for children, conservationist and adult author Rabinowitz frames his lifelong struggle with stuttering against his equally long-held love of animals...Iit's a candid and deeply resonant account of a hard-fought battle against societal stigma, and an embrace of one's true talent and calling."
—Publisher's Weekly, starred review
* "Moving and sweetly resonant."
—Kirkus, starred review
"The emotional resonance of the text, urgency of the issues discussed, and breathtakingly breautiful illustrations make this book a winner...A testament to the fierce beauty of jaguars and the human spirit."
—School Library Journal

"Readers will feel privileged to be part of this magical experience."
—Booklist

"Kids with speech issues, and those who bond with  animals more easily than with fellow humans, will especially relate to Rabinowitz's emotionally honest narrative."
—Bulletin
Coverage from NPR