Worry Doll: A Graphic Novel (Dover Graphic Novels) (Paperback)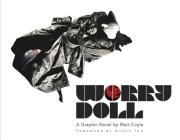 $14.95
Email or call for price.
Description
---
." . . Coyle's work is groundbreaking. The imagery in Worry Doll is so far ahead of anything out there in terms of visual sophistication that it suggests a new way forward for the genre -- maybe a new genre altogether." -- Sebastian Smee, The Daily Telegraph
"An amazing piece of work." -- David Lloyd (V for Vendetta)
"After seeing Worry Doll my only worry is that I'll never sleep again. Wonderfully creepy stuff." -- Steve Niles (30 Days of Night)
A group of dolls find their hosts murdered and flee the crime scene, setting out on a nightmarish road trip. Matt Coyle's inspired gothic noir, disguised as a children's book and filled with hauntingly lifelike pen-and-ink illustrations, offers a dark and disturbing vision that won't soon be forgotten. This edition features a new Foreword by Shaun Tan (The Lost Thing). Suggested for mature readers.
"Nothing goes unnoticed in Coyle's meticulous, near-obsessively detailed artwork that marries the finest gothic of best of Bernie Wrightson with the intricate photo-realism of Arthur Ranson, yet with a verisimilitude neither has ever matched." -- All Star Comics
"I absolutely love it with a passion." -- Nerdy Show
About the Author
---
Canberra native Matt Coyle studied painting at the Sydney College of the Arts before turning his attention to drawing. His work has been exhibited throughout Australia, and the full suite of Worry Doll appeared at the Gallery of Modern Art in Queensland and at Tasmania's Ten Days on the Island festival.