The Three Little Fish and the Big Bad Shark (Hardcover)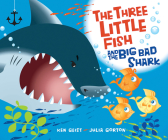 $7.99

Available to SHIP now; STORE PICKUP in 7-10 days
Description
---
A hilarious retelling of THE THREE LITTLE PIGS, with foil on the cover!"Little fish, little fish, let me come in.""Not by the skin of my finny fin fin!""Then I'll munch, and I'll crunch, and I'll smash your house in!"Mama tells her three little fish that it's time to make their own homes. Jim builds his house of seaweed, but the big bad shark munches it up. Tim builds his house of sand, but the shark crunches it up. It's smart Kim who sets up house in an old sunken ship!Children will delight in this silly story with funny, eye-popping illustrations. And there's foil on the cover!
About the Author
---
Ken Geist loves to write parodies of classic favorites. His Three Little Fish and the Big Bad Shark was an IRA Children's Choice. He lives in New York City with his twins.
Gorton has illustrated many books for children, including the MathStart Book.