Daniela's Guardian Angel / Daniela's Ángel de la Guarda: A Bilingual Book Based on a True Story (Hardcover)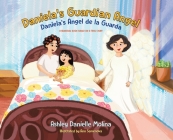 $30.00
WE CAN ORDER THIS FOR YOU (store pickup in 5-14 days)
(This book cannot be returned.)
Description
---
Losing a loved one is never easy. We can only imagine the impact it has on a child.
Daniela's Guardian Angel is a true story about Ashley Molina and her grandmother. The loving story is about a beautiful relationship shared between a granddaughter and her grandmother, Abuelita. Inevitably, Daniela loses Abuelita and finds that Abuelita has left her a little something to make losing her a little easier.
Daniela's Guardian Angel is a gift to children of all ages in preparation for losing that special someone
----------------------------------------------------------
Perder a un ser querido nunca es f cil. S lo podemos imaginar el impacto que tiene en un ni o.
Daniela's ngel de la Guarda es una historia real sobre Ashley Molina y su abuela. La amorosa historia trata sobre una hermosa relaci n compartida entre una nieta y su abuela, Abuelita. Inevitablemente, Daniela pierde a Abuelita y descubre que Abuelita le ha dejado algo para que perderla sea un poco m's f cil.
Daniela's ngel de la Guarda es un regalo para los ni os de todas las edades en preparaci n para perder a esa persona especial.