Whales, Dolphins, and Porpoises: A Natural History and Species Guide (Hardcover)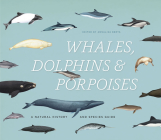 Description
---
The eighty-nine cetacean species that swim our seas and rivers are as diverse as they are intelligent and elusive, from the hundred-foot-long, two-hundred-ton blue whale to the lesser-known tucuxi, ginkgo-toothed beaked whale, and diminutive, critically endangered vaquita. The huge distances these highly migratory creatures cover and the depths they dive mean we catch only the merest glimpses of their lives as they break the surface of the water. But thanks to the marriage of science and technology, we are now beginning to understand their anatomy, complex social structures, extraordinary communication abilities, and behavioral patterns. In this beautifully illustrated guide, renowned marine mammalogist Annalisa Berta draws on the contributions of a pod of fellow whale biologists to present the most comprehensive, authoritative overview ever published of these remarkable aquatic mammals.

Opening with an accessible rundown of cetacean biology—including the most recent science on feeding, mating, and communication—Whales, Dolphins, and Porpoises then presents species-specific natural history on a range of topics, from anatomy and diet to distribution and conservation status. Each entry also includes original drawings of the species and its key identifiers, such as fin shape and color, tooth shape, and characteristic markings as they would appear both above and below water—a feature unique to this book.

Figures of myth and—as the debate over hunting rages on—figures of conflict since long before the days of Moby-Dick, whales, dolphins, and porpoises are also ecologically important and, in many cases, threatened. Written for general enthusiasts, emergent cetacean fans, and biologists alike, this stunning, urgently needed book will serve as the definitive guide for years to come.
About the Author
---
Annalisa Berta is professor of biology at San Diego State University, where she specializes in the evolutionary biology of marine mammals, especially baleen whales. Berta is coauthor of Marine Mammals, Third Edition: Evolutionary Biology and author of Return to the Sea: The Life and Evolutionary Times of Marine Mammals. She lives in San Diego, CA.
Praise For…
---
"'I take the good old-fashioned ground that the whale is a fish,' Ishmael says confidently in Melville's Moby-Dick. Old-fashioned indeed—whales are mammals, not fish. Thankfully, our scientific understanding of whales has come a long way since 1851, and much of that knowledge is collected in Whales, Dolphins, and Porpoises, a sperm whale-sized compendium of all things cetacean."
— Chelsea Leu

"Did you know that whales are related to cows and early whales had legs? Some whales release a ring of bubbles to corral their prey, and recent research suggests that bowhead whales may live for more than 200 years. Whales, Dolphins, and Porpoises, edited by whale biologist Berta, explains the diet, conservation status, and a host of other details for each of the 89 species of cetacea. This guide is a fantastic resource for biologists and aquatic-mammal watchers alike. There is a sequence of illustrations showing what each species looks like above water as it dives."
— Boston Globe

"Entries are brief, accurate, authoritative, and they highlight fascinating features of these animals. This informative and captivating book will be a fine addition to libraries that serve everyone from laypeople to researchers and scientists who are interested in learning more about marine mammalogy, in particular the titular species."
— Tina Chan, SUNY Oswego

"Judged at a glance, this book is an elegant achievement to encapsulate all whales, dolphins, and porpoises. Although there is no shortage of guidebooks that focus on cetacean species, Whales, Dolphins, and Porpoises: A Natural History and Species Guide gives homage to the diversity of this taxonomic group through its large page size, ample species-specific illustrations, and efficiently organized authoritative text. . . . This book gathers together the most interesting and pertinent research, alongside the information needed to identify every species, in a spacious and regimented format. This user-friendly directory will satiate any cetacean enthusiast's curiosity about species diversity and distribution; and I can envision that this book will inspire many future whale fans."
— Marine Mammal Science

"[This book] contains many good illustrations of the majority of extant species of whales, dolphins, and porpoises (cetaceans). It also provides a general overview of the systematics and evolution of cetaceans as a group and very brief summaries of anatomy, feeding, life history, range, and conservation issues for each species. Except for the first few dozen pages, the text is not meant to be read continuously, but browsed. In doing so, a reader will gain appreciation for the range of cetacean biology topics and some insight into recent developments in scientific understanding of that biology. Casual readers . . . should enjoy the photographs and drawings if they are curious about whales, dolphins, and porpoises. . . . Recommended."
 
— S. R. Fegley, University of North Carolina at Chapel Hill

"A well illustrated reference book . . . to the world's cetaceans."
— Ian Paulsen