Song in the City (Hardcover)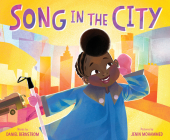 $17.99

Available to SHIP now; STORE PICKUP in 7-10 days
Description
---
From Daniel Bernstrom, the acclaimed author of One Day in the Eucalyptus, Eucalyptus Tree, comes a charming and irresistibly fun picture book about a young blind girl and her grandmother who experience the vibrant everyday music of their busy city.
A young girl, filled with the sounds of her beloved city, shares a song with her grandmother that changes the two forever. After helping Grandma realize that the city makes music as beautiful as the sounds they hear in church on Sunday morning, the two sit down and take in all the sounds of the city…together.
Song in the City bridges the gap between generations of music and family, while centering love, understanding, and joy.
A Bank Street College of Education's Children's Book Committee's Best Children's Books of the Year pick!
About the Author
---
Daniel Bernstrom is the author of the critically acclaimed One Day in the Eucalyptus, Eucalyptus Tree, as well as Gator, Gator, Gator!, Big Papa and the Time Machine, Song in the City, and Good Night, Little Man. Dan earned an MFA in Writing for Children and Young Adults from Hamline University and currently works at the Learning Resource Center Coordinator at Minnesota State College Southeast, where he tutors students in math, writing, and science. He lives in Red Wing, Minnesota, with his wife, Heather; daughter, LaVonne; and sons, Grace, and Haven.
Jenin Mohammed is a Floridian illustrator, the winner of the 2020 Summer Spectacular Illustration Grand Prize, and a huge fan of humor. Jenin draws the slice-of-life comic Knot Write Now; Song in the City is her first book for children. You can visit her at jeninmohammed.com.
Praise For…
---
Song in the City is a delightful book about experiencing delight—and finding a way to share it with someone we love.  — Susan Marie Swanson, Award-winning Poet and Author
An eye-catching, toe-tapping celebration of the melodies in everyday sounds. — Kirkus Reviews
In blocks of color reminiscent of stained glass, illustrations by Mohammed (Super Mom) emphasize robust motion and reverberating sounds, centering the way Emmalene perceives the world - combining with onomatopoeic text to create an adventurous symphony for the senses. — Publishers Weekly
[P]urely delightful to read aloud. — School Library Journal (starred review)
A singsongy storytime delight with most welcome and empowering representation. — Booklist (starred review)