Inside Family Guy: An Illustrated History (Hardcover)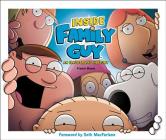 $34.99
Ask a Bookseller about this title
Description
---
Foreword by Seth MacFarlane
On the twentieth anniversary of the seven-time Emmy Award-winning Fox animated television series comes Inside Family Guy: An Illustrated History, a fully illustrated, full-color visual guide honoring its reign—from storyboards to character sketches to script excerpts to cast and crew interviews—and giving fans exclusive access behind the scenes. This comprehensive guide is an essential collector's item for the millions and millions of Family Guy fans around the world.
Featuring 240 pages of concept art, exclusive interviews with crew and cast members—including Seth MacFarlane, Seth Green, Mila Kunis, Alex Borstein, and Mike Henry—script excerpts, production notes, and countless insights on the making of the episodes as well as fan favorite characters Meg Griffin, Stewie Griffin, Glenn Quagmire, Brian Griffin, Lois Griffin, and Cleveland Brown, this is the ultimate guide to one of the most popular animated shows ever created.
Commentary from the crew will walk fans through every step of production, from conception meetings to the final print, detailing not only the artistic process but the history of its creation as well. Featuring storyboards, costume designs, reference photographs, immaculate background paintings and much more, the world of Family Guy and its memorable characters has never been revealed in such gorgeous detail before.
About the Author
---
Frazier Moore is a charter-member fan of Family Guy. During a quarter-century as Television Critic for The Associated Press he wrote frequently about the show and the creative team that brings the Griffins to life, reaching back to 1999 and the series' debut episode, which he greeted as "hilarious." Prior to the AP and enjoying Family Guy, Moore wrote for publications including The New York Times, Spy magazine, Interview, People and TV Guide, and was an arts and feature writer for The Atlanta Constitution.
Praise For…
---
"Inside Family Guy is truly the ultimate guide to one of the most popular and acclaimed animated shows ever made... an expertly written and curated one-of-a-kind keepsake for fans of the show." — Animation World Network
"It's a venerable treat, and one that shouldn't be missed. For the animation student, it should be required reading that never leaves your bag." — Bubble Blabber